Participant record coming up for Kainuu Trail
Published: 20.06.2023
Participant record coming up for Kainuu Trail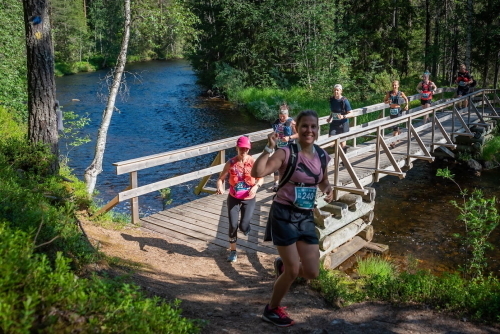 The 3rd Kainuu Trail Hossa National Park (Finland) trail running event gathers over 400 trail runners to enjoy Hossa's needle paths and the view of the magical wilderness

- We are heading towards the participant record, says Event Director and route master Jukka Liuha.
In 2022 the event gathered 317 registrations and 282 runners and in 2021 totally 420 registration and 382 runners.
- Yesterday evening our last registration period was closed and we have now 436 registered participants. It's very nice to see that after two years of corona registrations are increasing, says Liuha hopefully.
Routes and distances for all levels and ages
In Kainuu Trail runners can choose from the distances of 10 k Huosius, 21 k Jatkonvaara, 38 k Kokalmus, 55 k Värikallio and 78 k Julma-Ölkky. In all distances the open categories are for 18-years or older in men and women. Additionally, in 10 k's distance there is a category for 12–17-years-old boys and girls.

This year's most popular distance is a half-maraton size 21 k Jatkonvaara with 190 participants, says Liuha.
About the routes and trails the route master explains that 10 k distance is an easy-going needle path trail in the postcard views of the lake Huosiusjärvi. 21 k distance tests already a little bit about the trail runners ability for climbing hills in Jatkonvaara area. In 38 k distance the trail runners will see the crystal clear waters of the Muikkupuro and Kokalmus lake. 55 k runners will experience the magical Julma-Ölkky canyon lake by going over it by cable bridge. On the longest 78 k distance the ultrarunners will enjoy almost all the best sightseeings in Hossa National Park.
We can promise enjoyable trail paths and views for all distances, convince Liuha who has been hiking and organizing different events in Hossa since 2008.
Late registration is possible until the event
Even though our last official registration period is closed, it is possible to sign up for Kainuu Trail until the event day's morning 1st July 2023, if there are free spots left in the categories.
- We have already reserved the competition material for pre-registered participants by 19th June, but at the same we have reserved some extra free spots for all categories, says Liuha.
If the Hossa's trails happened to get interested, late registration is possible on our website www.kainuutrail.fi.
The Event Centre is located in the Hossa Visitor Centre where the start and finish areas are as well.
Kainuu Trail's program 1st July 2023 at 6-23
at 6.00: 78 k start

at 8.00: 55 k start

at 9.00: 38 k start

at 10.00: 21 k start

at 10.30: 10 k start

at 12.00: prize-giving ceremony 10 k

at 13.00: prize-giving ceremony 21 k

at 15.00: prize-giving ceremony 38 k and 55 k

at 17.00: prize-giving ceremony 78 k

at 22.00: Finish is closed

at 22.30: Soup of the day, serving ends

at 23:00: Event Centre and office is closed