Everything You Always Wanted to Know About Hossa: Part 4/10: Activities in Hossa you would not want to miss
Published: 14.05.2021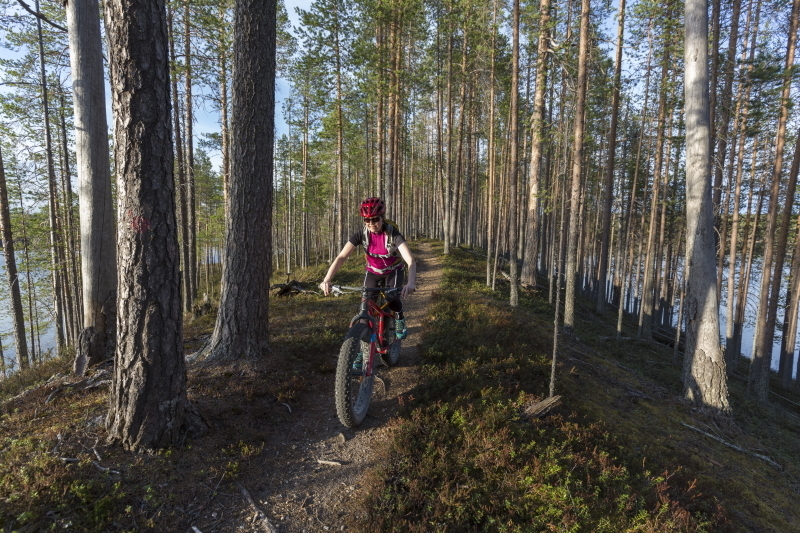 Photo: Suomussalmi.fi / Hossa National Park / Hannu Huttu

Hey there again!
Besides the Kainuu Trail, you can do many different activities in the Hossa National Park. Hossa is a beautiful and diverse area to visit. In my last story (Part 3/10) I talked about the magnificent canyon lake Julma-Ölkky, do you remember? In this story I'll present some of the most popular summer activites in Hossa National Park.

If you want you can do water excursions such as rafting, canoeing and kayaking, rowing or SUP boarding in Hossa's waters. And even if you do not have your own equipment, do not worry, you can rent it here from several local travel companies like Hossan Lumo, Hossa Visitor Centre or Hossan lomakeskus (Camp Norwide). You can also dive into the kettle hole of Öllöri - I can say that is very unique. Some people say that it is a totally new world with a different environment. You can dive nearly up to 40 metres down the kettle ponds - of course if you have diving experience enough. Combined with the fact that the water is so clear you can look very far into it, these are the perfect conditions for diving.

If you want to cool down after an exhausting (Kainuu Trail) run or just on a hot summer day, you can always go for a swim and enjoy the crystal clear lakes of Hossa in its purest way. And after being in the water you can relax on some beaches next to the waters, like in Hypäsjärvi lake, Iikoski river and (as earlier mentioned) Öllöri pond which is near the Hossa Visitor Centre and Karhunkainalo camping area. Kainuu Trail event centre and start/finish area is located in the Hossa Visitor Centre area.

If you do not want to swim or do any water related activities the trails around Hossa National Park are perfect for hiking, walking and running. Sometimes I enjoy walking on trails surrounded by nature to clear my mind. Soon summer is coming and we will all be able to feel the warmth of the sun while walking through Hossa. I cannot wait! And while doing that you might be lucky to find some berries or mushrooms, even though their season is normally in late summer and autumn.

If you rather enjoy taking your bike, you can also do mountain biking (MTB) or travel around with a fatbike on four marked biking trails in Hossa National Park. This does not mean that you cannot find your own route by using hiking and biking trails. If you want to use alternative trails and local roads you could also create your own route to be surrounded by nature. Just keep in mind that when you are biking do it mainly only on the marked hiking or biking trails.

If you need any help, the visitor centre of Hossa is very welcoming and happy to assist you with anything you may need like maps, tips, rental equipment, keys to cabins or guided group tours. Furthermore, if you plan to visit Hossa during the winter season, you also have the opportunity to do activities such as snowshoeing, fat biking or cross-country skiing.

I hope I gave you some ideas of what to do and how to spend your time in Hossa when you are not running. Maybe we will see you after 1,5 month on 3rd July 2021 at Kainuu Trail.

8 facts about activities in Hossa National Park:
1. Canoeing, kayaking, rafting, rowing and SUP boarding can be perfectly done in the lakes of Hossa
2. You can rent equipment for ex.
Hossa Visitor Centre
,
Hossan Lumo
or
Hossan lomakeskus

3. It is possible to dive down almost 40 metres into the kettle hole of Öllöri
4. Fishing is only allowed with permission in the national park
5.
Hossa National Park
also offers beaches to relax after an exhausting day
6. According to the everyman's right you are allowed to pick berries and mushrooms in the park
7. There are also a lots of hiking and MTB trails in the national park
8. Besides many summer activities, Hossa National Park also offers a variety of activities in winter too